Masterclass at Harley Street Institute
Train with the Best!
Not much to say apart from lip perfection…..
Advanced Lip Filler Courses
for Hydration, Enhancement & Contouring
Lips are the most dynamic of all structures on the face complicated by a network of neuro-vascular supply, mucosa and underlying musculature. Lip fillers can be a daunting treatment for new as well as experienced practitioners. Hence, our lip filler courses focus on developing injections skills that can undertake any size & shape of lips. Essential skills taught include learning the functional anatomy, assessing possible options and injecting the right density of filler for the particular lips safely.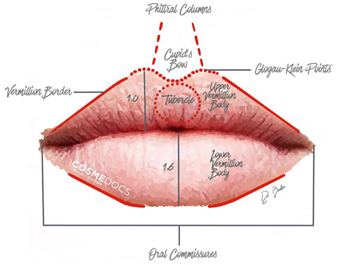 This Lip Filler Course is a masterclass is suitable for those who have completed foundation Dermal Filler techniques and require more hands-on. We train in our signature "#Cosmelip" as well as techniques using needle, cannula and 4mm needle.
The theory in our lip filler courses will cover a general level of lip anatomy, consultation and examination, facial mapping, injection techniques, and learning how to manage complications, including the use of hyalase. Hyalase is used to dissolve dermal fillers and often used for lumps that may form.
The lip filler courses also cover advanced peri-oral anti-ageing techniques which necessary to balance surrounding features of a rejuvenated lip.
The hands-on practical session will develop a proper injection technique with minimal punctures to the lip and side effects.
Anatomy & Biophysical Changes
Lip Ageing
Ideal Lip Proportions
Complicated Lips (e.g. Thin Lips)
Consultation and Assessment
Examine Natural Shape
Note Irregularities and Asymmetries
Treatment Goals & Establish Realistic Expectations
Contraindications
Side Effects and Possible Complications
Choosing the Right Hyaluronic Acid Filler
Anaesthesia and Maintaining Patient Comfort
Topical
Injection/Block/Within Fillers
Treatment Areas and Injection Techniques
Lip Border Injection Indication
Lip Body
Cupid's Bow
Philtrum Ridge
Lip Pout
Upper Lip Wrinkles
Lifting Sad Lip Corners
Various Shaping Options
Q) How much experience is required to attend the lip fillers course?
A) Any level of practitioner can attend as our individually tailored. New injectors will benefit from a safe foundation in lip fillers, whereas experienced ones will pick up advanced techniques and practices. Most practitioners tend to be ones who have completed the Botox and dermal filler courses but require extra confidence for treating lips.
Q) Who can inject lip fillers?
A) In the UK, medical practitioners such as nurses, doctors & dentists are suitable professionals that we teach on our lip filler courses. We do not train beauty therapists or any other NVQ holders.
Q) Will I get hands-on training on lips?
A) Yes. Most of the time spent during the lip filler courses practical training. Each candidate will have their dedicated models under supervision.
Q)How much are the lip filler training courses?
A) Our masterclasses start from £1190
Q)What support is available after the course?
A) Like all of our courses, there is on-going support by email, phone & text.
Q)Which brand of filler is used in this training session?
A) Teosyal RHA 2 / 3.
Q)Which techniques are taught?
A) Needle work will form the basis of the lip masterclass, but you will also be introduced to use cannula and the revolutionary 4mm needle.
Previous training and at least 6 months experience using botulinum toxin and dermal fillers is highly recommended before attending this course. Training can be adapted to encompass any specific difficulties and complications that have been encountered. It is possible to invite own Models that are felt to be good examples to use for practical Chin Or Jaw Reduction Training.
On successful completion of your training, you will be provided with a certificate of attendance and complimentary support pack. We will train you not only as a successful aesthetic practitioner but as a business professional. After each course, you will also be eligible to sign up for our free follow-up mentoring service.
Book Advanced Lip Filler Course