Harley Street Botox and Filler Course
Intense Aesthetic Courses
For Beginners
Harley Street Institute, one of the leading Aesthetic training providers in the UK, offers its most popular Foundation Botox and Filler Course to 
✓ Doctors
✓ Dentists
✓ Dental Hygienist
✓ Nurses
✓ Pharmacists
✓ Orthoptist and Midwives
The intensive 1-Day Botox and Dermal Filler training programme serves as an excellent entry point for medical professionals, seeking to fast track their career in the field of Aesthetic Medicine.
Become a certified provider of the most requested  cosmetic treatments and procedures through our CPD accredited courses tailored to your professional needs and core industry standards.
Harley Street Institute's Foundation Botox and Filler Course is a hybrid learning experience combining in-person practical training with online modules. Intently packed with theoretical information and videos to offer you a thorough understanding of both the fundamental principles and knowledge, as well as the practical skills you need to deliver high-quality aesthetic treatments.
Beginner skill level course comprises of:
✓ Virtual learning of theory
✓ In-house lecture and demonstration
✓ Plenty of hands-on practice on live   patients
✓ Post training support 
Botox Injection Skills
Learn to administer in-demand Botox procedures independently, accurately and safely.
Dermal Fillers Injection Skills
Learn to achieve non surgical facial and skin rejuvenation using dermal fillers in the mid & deep dermis safely and successfully with patient satisfaction.
Botox and filler course by
mentorship
Harley Street Institute is powered by a team of experienced and skilled industry experts who are passionate about what they do.
These mentors are committed to shaping a safer and quality future of Aesthetic Medicine.
Foundation Botox and Fillers Course offer you:
◉ Small sized (4:1) trainee to trainer ratio
◉ Bespoke courses and training
◉ Accredited course developed in line with HEE, JCCP and CQC standards
◉ CPD certified courses for a wide range of medical and healthcare professionals
◉ A platform to build and expand professional networks within aesthetics.
Our unique approach to aesthetic training has enabled and empowered the delegates to launch their independent practice right away; over 90% start the practice immediately afterwards
Facial Aesthetic Courses Structure
Expert trainers and mentors at Harley Street Institute take due diligence in designing a bespoke Foundation Botox and Fillers course for the delegates which involves following mandatory steps:
✓ Virtual learning modules Pre-course theory + Video Components)
✓ In-house hands-on practice on live patients in small sized groups supervised allowing personal feedback given by facial aesthetics experts. 
✓ Certification  Become a certified aesthetic practitioner and fast track your practice in the industry.
✓ Advance: your aesthetic knowledge and injection skills. Step up your practice with Advanced Botox And Fillers Courses and Master Classes.
Botox and Dermal Fillers Practical Day Training
There is simply no substitute for an intensive, ample hands-on training for a satisfactory and confident completion of your training in Aesthetic Medicine.
After your completion of compulsory online modules, begin the real action at Harley Street Institute.
Our one-day Foundation Dermal Fillers and Botox course include a morning interactive lecture conducted by one of our professional trainers, followed by an afternoon of small-group, hands-on practice.
Certified Confidence! 
Aesthetic training requires intense practical learning on live patients and undivided supervision of the trainers to ensure that you leave us feeling confident to practise independently.
Foundation Day
Botox and Filler Course (12 CPD)
Part 1. Online Modules
Foundation Course Botox & Fillers (7+ CPD)
Understand aesthetic terminology, ageing process & anatomy as well as pharmacodynamics of drugs used in practice.
Facial Ageing Overview
Facial Assessment & Consultation
Botulinum Toxin Fundamentals
Botulinum Toxin Reconstitution
Upper Face Botulinum Toxin Injections
Dermal Fillers Fundamentals
Hyaluronidase Use
Part 2. Practical Day
Botulinum Toxin Upper Face (as models permit)
Skill development: Mid-deep dermal injection with ultra-fine needle.
Frown lines (Glabellar complex)
Forehead lines
Crow's feet
Bunny lines
Eyebrow lift
Lip flip
Gummy smile
Lines & Wrinkles
Nasolabial Creases & Folds
Oral Commissure
Lip Enhancement
Facial Lines
Practical Session Learning outcomes
In House Training : Techniques Taught Including Business Mentorship.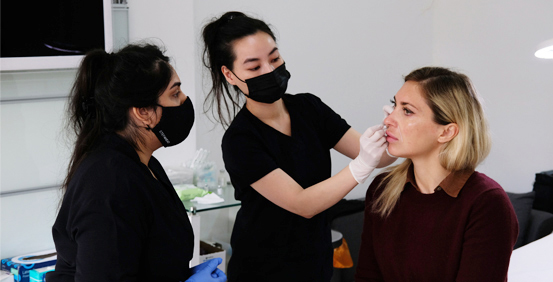 Facial Anatomy & Botox Injection Techniques:
Glabella
Forehead
Crows Feet
Eye Brow Lift
Bunny Lines

*

Gummy Smile

*

Lip Flip *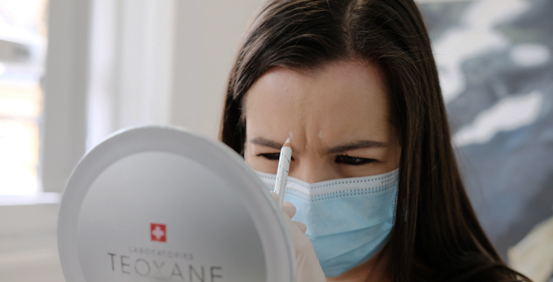 Skin Anatomy & Dermal Filler Injection Techniques:
Mid-Deep Dermal Injection Skill Using Ultrafine Needle
Lip Filler Training – hydration, volume increase & contouring
Naso-labial folds – reduce lines running from base of the nose to corners of the mouth
Facial Lines & Wrinkles
Deep crows feet repair

*

Downturned lip corners

*
Setting up clinics
Pricing strategy & Marketing Guidelines
Medical Malpractice
Insurance
Consent Forms
Record Keeping
* as models permit we do hand on training on as many areas
The aim of the foundation course in botox and dermal fillers is to develop popular treatment injection skills as well as learn to consult a client systematically. Competence achieved here will be the foundation for acquiring further skills and developing a safe practice.
Frequently Ask Questions (FAQs)
What Do I Need To Bring On The Course?
Each participant must bring the following along on the day of their practical day:
 Photo ID (compulsory) 

 GMC, GDC, or NMC registration number
On the day of the in-house training, pens and paper will be provided to you, but if you prefer to take a lot of notes, you might want to bring your own notepad.

Moreover, a camera or phone is useful but not required because it could be feasible to shoot some before-and-after shots that day.
Please arrive dressed in formal black clothing.
Can We Bring Our Own Models?
It is of great benefit for attendees to bring their own models when possible, as it is helpful for them to follow up on their work. If you would like to discuss the suitability of potential models, please get in touch with us.
What Courses Do You Offer?
Medical professionals, interested in pursuing a successful career in Aesthetic Medicine, or desiring to upskill their practice can greatly benefit from a range of facial aesthetics courses. In Botox & Dermal Fillers, we provide Basic and Advanced courses. We also provide tailored masterclasses upon request.
Can I Attend Both The Foundation And Advanced Course Together?
Regrettably, this is not possible. For beginners, Harley Street Institute's Foundation Botox and Fillers Course can be followed by Advanced Botox And Fillers Course. Alternatively, you can also book onto the three day Certificate in Aesthetic Medicine Course.
Secondly, you must provide documentation confirming you have performed some aesthetic procedures before enrolling in the Advanced course.
What Qualifications Are Required To Attend Your Courses?
In order to enrol in aesthetic training courses at Harley Street Institute, you must be a nurse, surgeon, doctor, or dentist with an active registration with the GMC, GDC, or NMC, or an equivalent if you are a foreign delegate.
I Live And Work Abroad. Can I Receive Training In The UK?
Yes. Attending our aesthetic training courses is open to anybody who is a medical professional—a surgeon, doctor, dentist, or nurse—and who is currently registered with their regulatory body. 
We would have to see documents of your registration and medical certifications, and we could only certify you to practise in the country where your registration is valid.
In order to make the most of their time with us, many of our international delegates decide to undertake a variety of courses on consecutive days. If you're interested in this, please get in touch with our course coordinators, who would be glad to put up a special course package that meets your training needs.
Do you have training facilities outside of London?
We will have training opportunities to soon conduct our botox and fillers course in Manchester.
Internationally, we started training in the UAE this year and have already begun training in Asia.
Do You Offer Finance Or Payment Plans?
We are not affiliated with any finance firms at the moment. Nevertheless, we will talk about staggered payments. Every request is handled individually by us.
Is there any refund/cancellation policy?
Please keep in mind that there is no fee to change the date of your course. You will be offered the choice to either book onto our next open date or a refund of 60% of the total cost if you wish to cancel. Within two weeks of scheduling the course, you must inform us.
Do You Offer Any Guidance Or Support After Attending The Course?
We offer ongoing advice to all our past training delegates and form whats app communities of similar practitioners for support. Ongoing support is vital to start your practice successfully. Our support groups (with over 120 aesthetic practitioners) are very responsive, with most queries answered immediately. You will be part of the community straight after your training course.
I Am A Qualified Vet. May I Attend Your Courses?
Unfortunately no, at Harley Street Institute, only doctors, dentists, nurses and pharmacists are eligible to attend Botox and Dermal Filler Course.
Will refreshments and food be provided during the in-house training?
We provide refreshments throughout the day during the botox and dermal filler course.  Please let us know if you have any particular dietary requirements.
Will I get hands-on experience on the practical day of the facial aesthetics course?
Absolutely! The crux of the courses Harley Street Institute offers is hands-on learning in Aesthetic Medicine. As we believe that learning happens through practice, we spend as much time as possible. 
Hence, ensuring you have plenty of opportunities to administer treatments to models and talk about approaches and techniques. Moreover, you will be closely examined by the expert trainers at HSI.
How much Hands On Training do I receive?
We are proud to say that the amount of hands-on practice received at our training institute is unrivalled by any other training academy. Secondly, we pride ourselves in ensuring you receive models for ALL treatment areas and complete all procedures as you would in your clinic. 
Models for Crow's feet, forehead lines, frown lines, a model for fillers in Nasolabial fold and your own Lip filler model. We always like to go above and beyond and, if possible, will provide training in other areas on the day (subject to availability).
How Many People Are On The Course?
You will be divided into small groups of no more than 4 delegates to 1 trainer for the practical part of your Botox and Dermal Filler training at Harley Street Institute. Expert trainers believe that the best way to learn is through practice, and we provide a safe environment for that goal. This allows for the most practical learning possible as well as enabling you for observational learning.
Will I Receive A Certificate Following Completion?
Yes, a certificate will be awarded to you once you have successfully concluded the theory and practical sessions. When acquiring coverage, you must supply this to your insurance provider.
Is it possible that I do not pass the Foundation Botox and Fillers Courses?
We have constructed our courses to provide you the best opportunity possible of passing your training course by offering exceptional hands-on experience, and training materials, and supervisory support.
If you don't meet the standards on the practical day, you'll be invited to another session to keep improving your skills and knowledge until you succeed. However,  the delegate would incur additional expenses for that.
Do I need insurance after attending these courses? If so, how can I get it?
Major aesthetic insurers have approved our courses, so you can start practising as soon as you have contacted them and signed up.
 Moreover, you must work with a licensed prescriber for Botox® injections and Dermal Fillers if you are not a prescriber yourself.
Many people are concerned about this part of the profession, but it might be simpler than you think to locate a local prescriber.
What support will I receive after the course?
We offer ongoing advice to all our past training delegates and form whats app communities of similar practitioners for support. Ongoing support is vital to start your practice successfully.
Our support groups (with over 120 aesthetic practitioners) are very responsive, with most queries answered immediately. You will be part of the community straight after your training course.
How Soon Can I Get Started?
We advise delegates on foundation courses to complete their insurance and start practising immediately whilst training, and knowledge is still fresh. Most practitioners begin by treating family and friends, to start with.
How can I get in touch with a prescriber?
That's ok! You can treat with fillers but would need to be attached to either a clinic, or a prescriber.
What can I expect after training?
Perseverance is key. Unrealistic expectations will cause disappointment. Like any career, you need dedication and practice to make it a successful career.
After successfully completing my courses, will there be any career opportunities within the CosmeDocs group?
We are constantly looking for new Aesthetic Practitioners to become part of the Cosmedocs Team. You can ask for information on partnership opportunities to seek professional possibilities.
Book Your Foundation Botox & Filler Courses (Practical)