Foundation Botox & Dermal Fillers Training Course
Gain competitive edge…..
Foundation Botox & Dermal Fillers Course
Aesthetic Mentorship Training
Our goal at Harley Street Institute is to deliver the highest quality training in Botulinum Toxin using the safest and most up-to-date techniques via evidence-based practice. Our botox & dermal Filler training courses are carried out in small groups. This enables us to provide you with a training programme tailored to your needs, with more time and emphasis on the hands-on practical sessions.
The Aesthetic Mentorship is a 1-day, combined foundation training programme in Botox and Dermal Fillers courses. It remains one of our most popular training programmes and serves as an entry point for healthcare professionals seeking to establish a career in Facial Aesthetics. The material covered in a typical 1-day course in botox and dermal fillers course is immense and differs from typical medical speciality courses.
In order for us to focus your training on the practical hands-on session, you will be required to complete online modules prior to your training day. The first part of your training day will cover an intensive level of theory; anatomy, consultation and examination, anaesthesia, facial mapping and techniques and learning how to manage complications. Your comprehensive hands-on training will follow, which will be supervised by one of our expert aesthetic trainers. Much time and emphasis is placed on this part of the training session to ensure that you leave us feeling confident to practice independently. Each model that you see, you will be observed, critiqued and actively taught during the entire consultation and patient treatment procedure.
Over the years, our foundation course has evolved, improving the standards beyond industry norms. With increasing information and practice standards we have added mandatory online modules allowing candidates familiarize with aesthetics before attending the practical day. The online modules cover knowledge required for dealing with today's aesthetic clients and address the lack of a standard curriculum in aesthetics. Our approach to aesthetic training has resulted in a high number of our trainees being confident to start practicing aesthetics safely and confidently.
6 Vital Online Modules (3-4 hours) – £175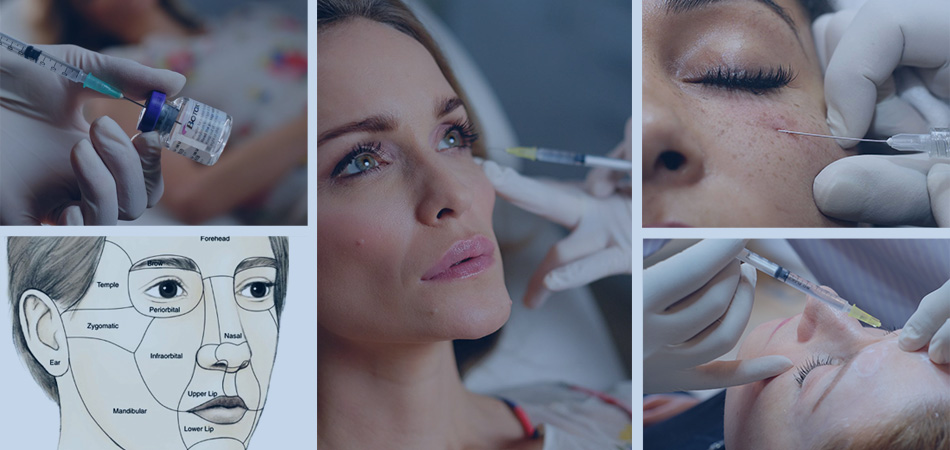 Facial Ageing & Aesthetic Treatments:
Introduction course to facial ageing and how aesthetic treatments such as botox, dermal fillers and skin peel work.
Aesthetic Facial Assessment & Consultation Course:
Learn how to assess the face for injectable treatments with botox and dermal fillers as well for common skin issues.
Botulinum Toxin Dilution & Reconstitution:
This course is the theory component of the upper face botox course. It will discuss the injection technique for three most common areas for the cosmetic use of botulinum toxin; Glabella, Forehead and Crow's feet.
Botulinum Toxin Fundamentals:
Learn the theory behind botulinum toxin (aka Botox) as used in medicine for aesthetic as well as medical conditions.
Dermal Filler Fundamentals Course:
Course covers basic properties of hyaluronic acid dermal fillers and injection techniques used in aesthetic treatments.
Upper Face Botulinum Toxin Injections:
This course is the theory component of the upper face botox course. It will discuss the injection technique for three most common areas for the cosmetic use of botulinum toxin; Glabella, Forehead and Crow's feet.
Use Of Hyalase (Hyaluronidase) | Dermal Filler Complications:
Managing complications after the injection of hyaluronic acid fillers is imperative for all aesthetic practitioners.
Get Started CLICK HERE to learn more about the online modules
Consultation, Facial Assessment & Treatment Planning:
Managing Client Expectations & Patient Selection
Holistic / Multidisciplinary Plan for Anti-Ageing
Anatomy, Facial Mapping & Wrinkle Assessment
Post-Operative Instructions & Aftercare
Principles Of Botulinum Toxin (Botox / Azzalure):
History, Pharmacology & Mechanism of Action of Botox and Dermal Fillers
Concepts in Medicine and Cosmetic Practice
Indications and Contraindications
Storage and Reconstitution
Aftercare
Complications and Management
"Practical Session" £1190 + Vat
Facial Anatomy & Botox Injection Techniques:
Glabella
Forehead
Crows Feet
Eye Brow Lift
Skin Anatomy & Dermal Filler Injection Techniques:
Lip Filler Training – hydration, volume increase & contouring
Naso-labial folds – reduce lines running from base of the nose to corners of the mouth
Marionette lines – reduce lines and restore volume surrounding the peri-oral region
Facial Lines & Wrinkles
Business Implications:
Setting up clinics
Pricing strategy & Marketing Guidelines
Medical Malpractice
Insurance
Consent Forms
Record Keeping
The aim of the foundation course in botox and dermal fillers is to develop popular treatment injection skills as well as learn to consult a client systematically. Competence achieved here will be the foundation for acquiring further skills and developing a safe practice.
Harley Street Institute is committed to helping aesthetic startups succeed and will provide information on marketing, insurance and regulations that will enable practitioners to get up and running fast.
On successful completion of your training, you will be provided with a certificate of attendance and complimentary support pack. We will advise you not only as a successful aesthetic practitioner but also as a business professional. After each course, you will be eligible to sign up for our free follow-up mentoring service and be part of our chat communities.
Q) Who Is Suitable For Training?
A) Doctors, Dentists, Dental Hygienist, Nurses, Pharmacist, Orthoptist and Midwives
Q) What Courses Do You Offer?
A) We offer Foundation, Advanced courses in Botox & Dermal Fillers. We also offer bespoke masterclasses as well as a week long certification course as well as our prestigious fellowship in aesthetic medicine.
Q) Do you have training facilities outside of London?
A) We will have training opportunities in Derby where our #superclinic is based.
Q) Do You Offer Any Guidance Or Support After Attending The Course?
A) We offer ongoing advice to all our past training delegates as well as forming whats app communities of similar practitioners for support.
Q) I Am A Qualified Vet. May I Attend Your Courses?
A) NO only doctors, dentists, nurses and pharmacists.
Cost Of The Courses?
| | |
| --- | --- |
| Course | Fee |
| Foundation Botox & Dermal Filler Course | £1190 + VAT |
Q) I Am A Qualified Vet. May I Attend Your Courses?
A) NO only doctors, dentists, nurses and pharmacists.
Book Your Foundation Botox & Filler Course (Practical)