Harley Street Botox and Filler Courses
Our Intense Aesthetic Courses
For Beginners
The Foundation Botox and Filler Courses are our most popular training programmes. Serving as an entry point for healthcare professionals seeking to establish a career in Aesthetic Medicine, the course compromises of online modules and supplemented ample, hands on practical guidance.  Learn to use botox safely in the upper face zones and dermal fillers in the mid & deep dermis, an injection skill that opens up vast opportunities.
Botox and filler course by
mentorship
Our small Trainer to Candidate ratio allow for the provision of a tailored programme and intense mentorship by our Aesthetic Trainers are absolute key to getting the foundations of your career right.
Our unique approach to aesthetic training has resulted in most of our trainees start practicing from Day 1 and setting up their own business to practice aesthetics safely and confidently.
HSI Facial Aesthetic Courses
Structure
Our foundation botox and filler courses have evolved over the years, improving the standards beyond industry norms.
Candidates are required to complete online modules before the facial aesthetic course practical day. These have been developed by our in house team with extensive research supplemented with theory and video components to give you the best educational platform at home. This part of your aesthetic training will cover an intensive level of theory; anatomy, consultation and examination, anaesthesia, facial mapping and techniques. The aim is to familiarise yourself with the new terminology in advance of the practical day.
Botox and Dermal Fillers Practical
Training Day
Aesthetic training requires intense hands-on training to ensure that you leave us feeling confident to practice independently. The practical day does exactly this. You may book the practical day for botox and dermal filler training anytime. However, you MUST complete the online modules before the practical training day.
Foundation Day
Botox and Filler Course (12 CPD)
Part 1. Online Modules
Foundation Course Botox & Fillers (7+ CPD)
Understand aesthetic terminology, ageing process & anatomy as well as pharmacodynamics of drugs used in practice.
Facial Ageing Overview
Facial Assessment & Consultation
Botulinum Toxin Fundamentals
Botulinum Toxin Reconstitution
Upper Face Botulinum Toxin Injections
Dermal Fillers Fundamentals
Hyaluronidase Use
Part 2. Practical Day
Botulinum Toxin Upper Face (as models permit)
Skill development: Mid-deep dermal injection with ultra-fine needle.
Frown lines (Glabellar complex)
Forehead lines
Crow's feet
Bunny lines
Eyebrow lift
Lip flip
Gummy smile
Lines & Wrinkles
Nasolabial Creases & Folds
Oral Commissure
Lip Enhancement
Facial Lines
Practical Session Learning outcomes
In House Training : Techniques Taught Including Business Mentorship.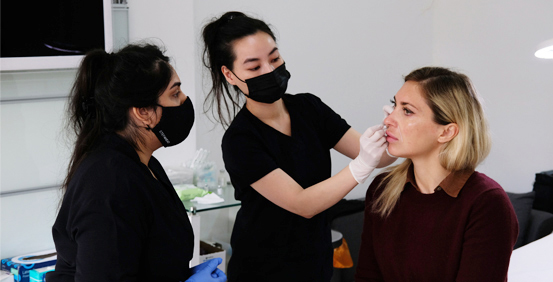 Facial Anatomy & Botox Injection Techniques:
Glabella
Forehead
Crows Feet
Eye Brow Lift
Bunny Lines
Gummy Smile
Lip Flip
*as models permit we do hand on training on as many areas.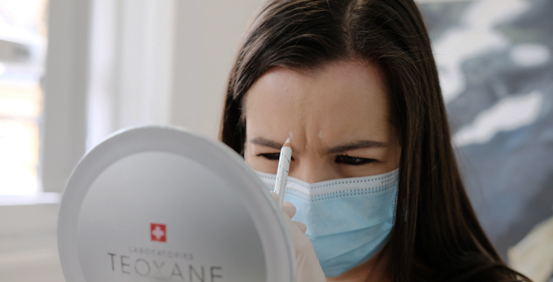 Skin Anatomy & Dermal Filler Injection Techniques:
Mid-Deep Dermal Injection Skill Using Ultrafine Needle
Lip Filler Training – hydration, volume increase & contouring
Naso-labial folds – reduce lines running from base of the nose to corners of the mouth
Facial Lines & Wrinkles
Deep crows feet repair
Downturned lip corners
Setting up clinics
Pricing strategy & Marketing Guidelines
Medical Malpractice
Insurance
Consent Forms
Record Keeping
The aim of the foundation course in botox and dermal fillers is to develop popular treatment injection skills as well as learn to consult a client systematically. Competence achieved here will be the foundation for acquiring further skills and developing a safe practice.
Frequently Ask Questions (FAQs)
What Courses Do You Offer?
We offer Foundation, Advanced courses in Botox and Dermal Fillers. We also provide bespoke masterclasses and a week-long certification course, and our prestigious fellowship in aesthetic medicine. The foundation botox and fillers course is the entry point into facial aesthetic for most practitioners.
Do you have training facilities outside of London?
We will have training opportunities in Derby, where our #superclinic is based. We are also soon to be conducting our botox and fillers course in Manchester.
Internationally, we are training started training in the UAE this year and have already begun training in Lahore, Karachi and Islamabad for botox and dermal fillers.
Do You Offer Any Guidance Or Support After Attending The Course?
We offer ongoing advice to all our past training delegates and form whats app communities of similar practitioners for support. Ongoing support is vital to start your practice successfully. Our support groups (with over 120 aesthetic practitioners) are very responsive, with most queries answered immediately. You will be part of the community straight after your training course.
I Am A Qualified Vet. May I Attend Your Courses?
Unfortunately no, only doctors, dentists, nurses and pharmacists.
Is Food Provided?
During the botox and dermal filler courses we provide refreshments throughout the day.  Please let us know if you have any particular dietary requirements.
Is There Parking Available?
Despite being in central London, it is usually possible to find a parking space. There street parking on Harley Street and adjacent streets such as Wimpole Sreet. Unfortunately, most of these operate a maximum stay of four hours.
Alternatively, there are two car parks nearby: Q-Park Oxford Street, Cavendish Square, London W1G 0PN Q-Park Harley Street, Queen Anne Mews, London W1G 9HF These car parks are open 24 hours and maybe booked in advance at http://www.q-park.co.uk/en/park-with-q-park/pre-book-parking- . Harley Street is located within the congestion zone
How Many People Are On The Course?
The maximum number of people on any course is 4 with a Harley Street Institute. We prioritise practical teaching, and every attendee will have numerous opportunities to inject under supervision. We believe that the best way to learn is through practice, and we provide a safe environment to do so.
Our botox and filler courses occur in actual aesthetic clinics, not in hotels and conference halls with dozen other practitioners. You will get a feel for the ambience and treat actual patients.
Will I Receive A Certificate Following Completion?
Individuals will receive attendance certificates following successful completion of the theory and practical sessions.  These are required for insurance purposes. We recommend Hamilton Fraser Insurance.
Book Your Foundation Botox & Filler Courses (Practical)
I chose this Fellowship because it focuses on hand-experience. I wanted to become totally confident in the practical application of The principals of aesthetics. Being integrated into fully working aesthetic clinic with close clinical mentorship over 3 months certainly allowed me to achieve this.
DR SWIFT