Certificate in Aesthetic Medicine
An Intense 3-day course incorporatinig essentials basic and advanced botox and dermal filler procedures combined with popular skin treatments perfect for the beginner all-rounded aesthetic practitioner.
Direct mentorship by our various cosmetic practitioners who are experts in performinig their respective aesthetic treatments.
Small group training under the direct supervision of our experienced aesthetic trainers. Master procedures to an advanced level. Learn theory, consultation methods and manage client expectations as well as complications.
We provide you with practical and useful practice building tips and tricks from the people who have authority in the field and have deep insight.
Aesthetic Medicine Topics
The core principles that will be covered are described below.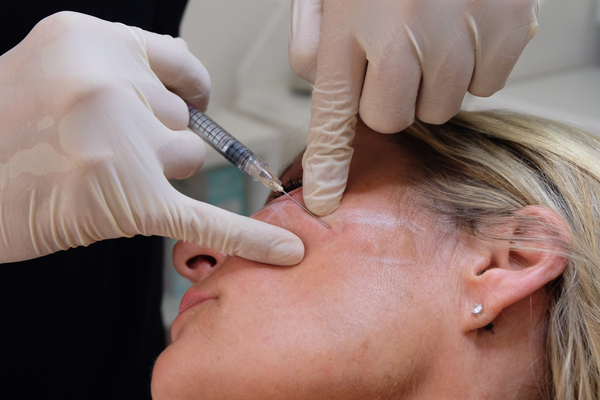 DAY 1
BASIC BOTULINUM TOXIN
Upper Face: Frown, Forehead, Crows' Feet
Lips
Nasolabial Folds
Marionette Lines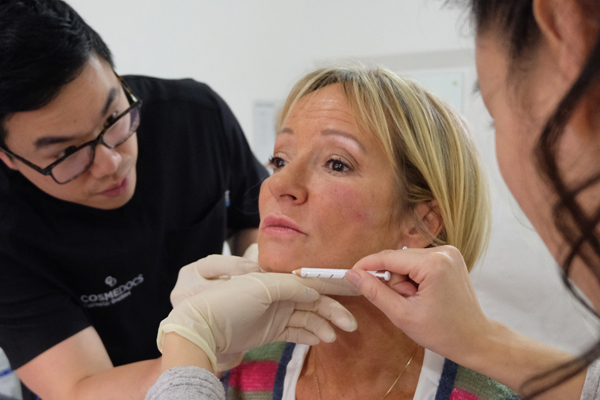 DAY 2
ADVANCED BOTULINUM TOXIN
Lower Face: Mentalis crease, Chin Puckering, Nasal Bunny Lines, Droopy Lip Corner
Hyperhidrosis
Jaw Reduction
Nefertiti Facelift
Intradermal Injection Techniques + Introduction to Cannula
Lips
Cosmeceuticals
Skin Peels
Read an article on'training spotlight' published in news magazine is a proof of our highly professional fellowship programme & training
Download Here
Frequently Ask Questions (FAQs)
What Is The Duration Of The Certificate In Aesthetic Medicine(CAM)?
The duration of the Certificate in Aesthetic Medicine is 3 days.
What Experience In Medical Aesthetics Is Required To Apply For The Certificate In Aesthetic Medicine?
No previous experience is necessary to undertake the Certificate in Aesthetic Medicine course however, having completed a foundation course in botox, dermal fillers, skin peels is usually advantageous.
Who Is Eligible To Apply For The Certificate In Aesthetic Medicine?
Our training courses are available to Doctors, Dentists and Nurses.
What Will I Learn On The Fellowship In Aesthetic Medicine Certificate?
This is a unique training programme, aimed to escalate practitioner skills to an advanced level, with intense mentorship by experts who are passionate in delivering the best evidence-based teaching methods to date. The Fellowship has been designed with a holistic approach in mind, providing a strong foundation in the principles of Medical Aesthetics from skin, hyperkinetic lines, volume loss and early sagging skin to advanced facial contouring and knowledge of cos-medical treatments such as hyperhidrosis, bruxism and migraines. Additionally, we have constructed modular weekend workshops, where the Fellows come together, and have found this method of integrated learning to be both enjoyable and informative.
In order to make the most of your training, you are strongly encouraged to self-direct your learning using the resources from our online portal as well as further reading. Regular assessments and feedback sessions ensure that the mentorship and support that we provide is tailored specifically on an individual basis.
Unlike many other training programs, you will be integrated as part of the team during your stay, observing a range of treatments on our busy day clinics and required to assist and learn on the job as you would in a real clinic. We believe that this level of exposure, further to your training, is fundamental in obtaining a realistic insight into the business aspects of Aesthetic Medicine.
Selection & Availability?
Places are limited and application on a rolling basis.
Will You Employ Me After The Training?
If we have vacancies for junior practitioners within our associated clinics we will invite our trainees to apply.
Can You Find Me Employment After Completing The Training?
We will guide you in the right direction. It is important to do some basic research beforehand so you have a sense of direction of where you would like to work, as aesthetics can be practiced in a wide range of settings ranging from spas, GP/medical to dental clinics. We are very proud to say that all of our certificate and fellowship candidates have successfully found work placements (or established clinics) post training.
What Kind Of Certificate Will I Receive On Completion Of Training?
Upon successful completion, you will receive a set of both digital and hard copy training certificates endorsed by Hamilton Fraser Cosmetic Insurance in the above mentioned modules.
What Is The Cost Of The Certificate In Aesthetic Medicine?
Are Your Courses CPD Accredited?
Will There Be Pre-Course Learning Modules And Research Assignments?
Yes, you will be given access to the online learning modules and assignments for your own self-directed learning.
Is There Ongoing Mentorship After The Fellowship?
Yes, HSI will always help and advise you where necessary.
Is The Fellowship Certificate Only Available In London?
Presently yes. Also we will be offering venues in Derby, Midlands, in 2020.
Does The Training Include Lasers?
The Certificate in Aesthetic Medicine does not include lasers. It may be possible to add laser modules, at an additional cost.
Are You Level 7 Accredited?
No, as we have our own standards for training in Medical Aesthetics where the emphasis is more on practical mentorship.
Do You Have Finance Assistance Available?
Can I Pay In Installments?
A 25% deposit will be required to secure your place. The remainder must be paid at least 6 weeks before your start date. ***(if there is any outstanding balance 1 month prior to your start date, your place will be cancelled and any payments made will not be refunded).
Are There Any Future Business Opportunities?
Partnership opportunities are available and would be discussed on an individual basis.
Aesthetic Medicine Certificate
Testimonials from our Training Delegates
More Reasons to Train at The Harley Street Institute
Our fellowship programme in Aesthetic Medicine is one of its kind in the whole of the UK.
We are committed to the highest training standards in cosmetology and aesthetics.
We take seriously and adhere to the requirements of Health Education England (HEE) of 2015 and 2016 in regard to the non-surgical cosmetic procedure training.
Quality Services & Safety
We set standards that go beyond those advocated by the regulatory bodies in the cosmetic industry. This leads to unmatched quality services & safety for clients who seek practitioners that have trained with us.
We only work with dedicated professionals who love teaching. This is important in an industry where regulations are not as strict as in say mainstream medical service provision.
As a trainee, you will enjoy interactive sessions with your trainers who will keep a complete record of your progress assessments and submissions.
If your desire is to become a highly trained and skilled cosmetic medicine practitioner that meets global aesthetic medicine practice standards, then your dream can become a reality by training with us.